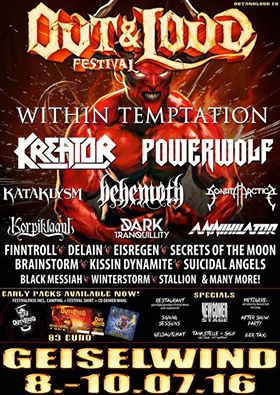 (english version below)
Mit Freude möchten wir Euch mitteilen, dass wir an dem diesjährigen OUT & LOAD Festival 2016 in Geiselwind teilnehmen!!!
Ihr findet uns auf der Newcomer-Bühne!
Des Weitern, könnt ihr die Karten für nur 99,- € bei uns kaufen! Hierbei handelt es sich um die Karte für gesamtes Wochenende inkl. Camping! So funktionert's:
1. Kontaktiert uns via Facebook oder E-Mail (info@texascornflakemassacre.com) mit Euren Namen/Anschrift/E-Mail-Adresse
2. Ihr erhaltet von uns als Bestätigung die Kontodaten
3. Nach Zahlungseingang bekommt ihr von uns ein COUPON mit o.g. Daten
4. Mit diesem COUPON geht Ihr an die Bändchen-Ausgabe und erhaltet das Bändchen und auf Wunsch auch das Original-Ticket
WICHTIG! Die E-Mail-Adresse und Vor-/Nachname müssen zwingend korrekt sein, denn damit werden Ihr Euch legitimieren müssen! (Die o.g. Daten werden ausschließlich für den Verkauf der Tickets erhoben
++english++
We are proud to inform you, that we are playing at the OUT & LOAD Festival 2016 in Geiselwind!!! You will find us on the newcomer stage! You can get the tickets directly from us for only 99€ which is 10€ less than the presale price. You get a complete 3 days ticket including camping!!!
1. Contact us via Facebook or e-mail (info@texascornflakemassacre.com) with your fullname, home address and e-mail address
2. You recive a messege from us with our account detail
3.After payment has been recived, we'll send you your COUPON
4. Go with this COUPON to festival entry and you'll get your festival ribbon and your original ticket
IMPORTANT! You'll need to legitimize yourself with your fullname and e-mail address so watch for correct information! 
(The above data will be used only for the purpose of sending you the ticket)